How Can I Start Working Online?
Is it possible to make money online? Will I ever find any "real" answers?
Yes,  you can….and I'm here to help YOU find them.

What You Will Need to Get Started Working Online



First of all, you do NOT need any experience at working online. I didn't when I started out a little over a year-and-a-half ago.
I didn't know what I was doing…I was lost, but not anymore.
You won't need a college degree and if you do have one, that's fine too. Doesn't matter.
You won't be needing to worry about all that since you aren't applying for a job just to be stuck yet again in the same situation you're trying to get out of.  Okay? It's not any job or boss that you'll be working for.

You'll be working for yourself!
But NOT by yourself.
Let me explain a little…Don't worry, you're not gonna get left out there all by your lonesome. I'll be there to help you out when you need it, along with a whole lot of other people that know more than I do about making money online….
YES, there are people out there that WILL help you. They helped me…
I'll tell you more on that if you'll just stick with me for a bit more and keep reading…
But, please DO remember this….
Don't quit before you start…before you give yourself the chance. So, just because you think you can't work for yourself right now, doesn't mean you can't learn.
Sure, it's kinda scary, but so is the thought of living your entire life feeling miserable. Like you've not accomplished ANYTHING, because you're too busy running the rat race and jumping when your boss tells you to jump.
If I can make money online, you can too. I had no prior experience, no fancy-smancy college degree, and nope…no magical wand up my sleeve either. Just a lot of hard work and stubborn bullheadedness. Heck, I've never worked at a job that requires an office or a computer until now, working on my own.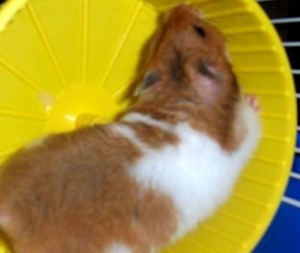 Do you feel like a hamster running on a wheel that never stops? Unhappy with your job and feel you could do something better with your life than what you're doing now?
You do? Well, keep reading…
…if not, then keep running on that endless wheel 'til your heart's content.
Okay, still with me?
Here's a start for what you need to know.
3 Things You'll Need to Be Successful in Working Online
A website– I'll tell you where you can get not only one FREE website, but TWO! These websites are fully functional WordPress Sites with hosting included, and you are in control of what you want to put on them. You don't know how to build a website? No problem! I didn't either when I started out. It's not that hard, if I can do it, so can you! Don't panic now, you'll be shown step-by-step how to get it up and running.
Training– Yes, there is FREE Starter training! It's what I followed when I started out on my path to get to where I am today and I want to share it with you. It's updated on a daily basis.
Support– Help and support from the actual owners, Kyle and Carson, experts who are already successful at working online. You will also have access to a whole community of people from all over the world, who are willing to share their

knowledge and support

with you for free 24/7. Many of them have been doing this for years and became their own bosses years ago.

Who better than the pros to get help and advice from?



You did read that right. Yes, you can get it for FREE!
You do NOT need a credit card to start out!
All you need is your name and email to sign up for a Starter membership. That is ALL you need to do. You will NOT be asked for your credit card number to become a  Starter Member!
I really can't blame you for being wary. I'm the same way. I won't pay for something I can't see first either. There are so many scams and get rich quick schemes out there, especially when you're looking for online work or how to make money online. It's shameful, is what it is.
I've worked too hard for my money and I'm sure you have too. That's why I want to share with you the #1 place that I've found the answers to begin my future online.
I checked it out for free, and once I started looking through all they offered there, I knew it was too good to pass up! 
There's nowhere like it anywhere online that I've found, at least so far! I'm still a member of this awesome online learning community, and I'm usually found there everyday. I love it, and I'm sure you will too, once you check it out.
ONLY if you decide to sign up for a Premium membership will you ever need to pay anything, or fill out ANY information for your credit card. It's all up to you, but if you're looking for answers you WILL find them here…and so much more. 
So, what have you got to lose?
Absolutely nothing! It's free to check it out and try.
Plus, there's soooo much to learn that you can't find anywhere else.  Believe me, I searched the internet for a long time.
….much longer than it took me to learn what I know now and start earning money from the internet.
If you're just beginning, there's a lot more than you can imagine to be successful online. It isn't as easy as some of the scam artists out there would like you to think.

But, NO…. it's not impossible either. It can be done, step by step.
Don't worry about all that yet though.
Like I said earlier, I'm here to help you, one step at a time if need be. All you need to do is ask me in the comments below, or if you'd rather, you can email me at sherry(at)bossfreeopportunities(dot)com
Want to find out more? Want to learn how
YOU

can succeed at working from home?

Look no further, you've found it. Follow the link below…it won't cost you anything, not even a penny.

↓↓↓↓↓

Again, the three things you'll need to start out are
Your own website
Training
Support
Find out where you can get these by reading my review of my #1 recommendation.
Thanks for reading, I know it's been a lot to read, but I want to let you know I appreciate it…and, I hope it's helped you get some idea of how you can start working online.
Have any comments or questions? Feel free to ask me in the comment box below!  I'll be glad to help you! 🙂
Best wishes!
–Sherry